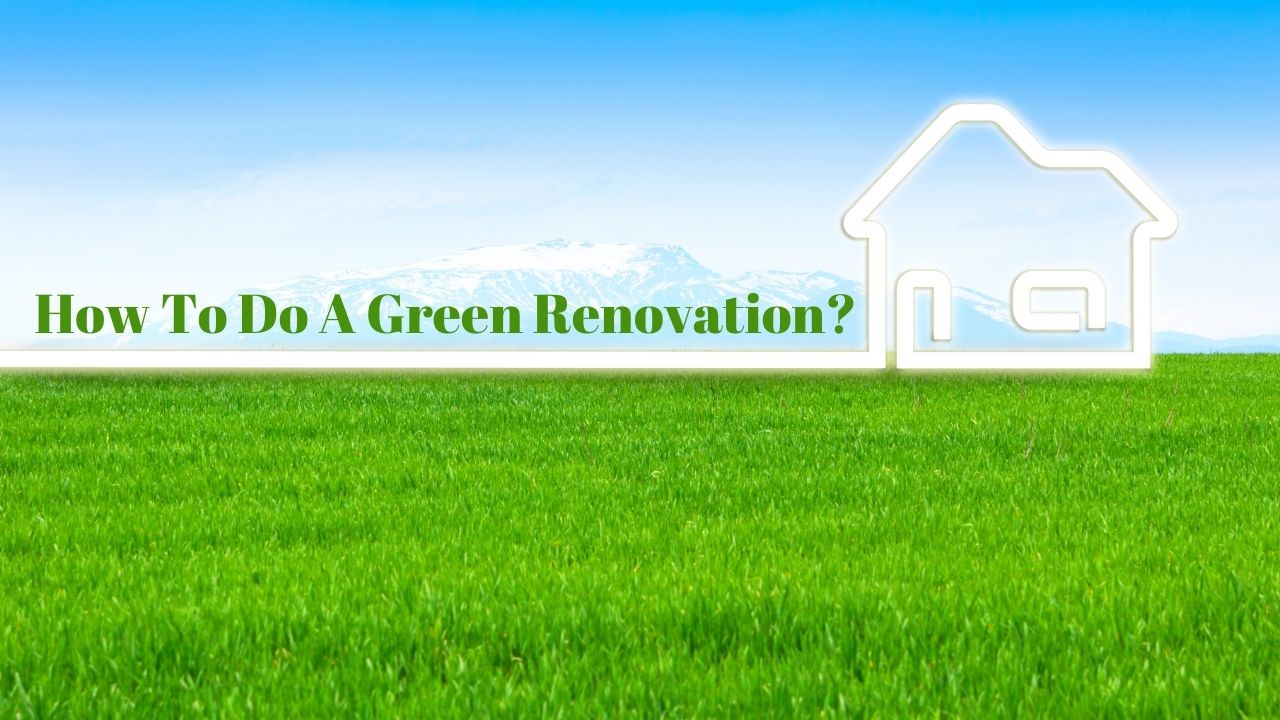 Are you interested in making your home more energy efficient? Here are our top steps towards a sustainable green renovation project.
There is no doubt that new eco-homes are a fantastic step towards a low-carbon world, but since more than 80% of the houses that will stand by 2050 have already been installed, it is a vital move to retrofit our existing dwellings.
While the government agrees that eco-retrofits are extremely necessary, to get things done, the onus still falls on you, the homeowner. So, if you want to increase the efficiency of your house, here are our top tips:
Upgrade Your Home's Insulation To Make It More Energy Efficient
It's meaningless to install renewables to your home if it's so poorly insulated that heat flows straight out. For any eco-renovation, insulation is important, since as much as 40 percent of the heat loss of a home is due to a lack of it.
It is relatively easy to insulate lofts or cavity walls. With a variety of materials, from sheep's wool to foam expansion, you can do this. Insulating either would cost upwards of £ 250 and will save energy bills of more than £ 150 a year.
Isolating solid walls is trickier. The thermal lining could be added internally. A sheet of insulation may be applied to existing walls externally and then covered in rendering.
Be mindful, however, that you will need to ensure that you maintain the breathability of the building fabric if you are working with a heritage home to prevent damp issues. Follow our guide on how to insulate a period house for more information.
Costs differ considerably so it's best to look around for a quote or check sites like checkatrade.com or yell.com for local fitters.
Get Double or Triple Glazing (Solar Gain)
About 10% of the energy of a home can be lost through the windows, so it is important to do well with yours.
It will delay heat transfer by replacing single-glazed windows with double- or even triple-glazed versions. Find a product loaded with a low-conductivity gas, such as argon, to minimize this further.
In order to reflect some heat back into the room, you can also get hold of low-emissivity Low-E) glass with a special coating. For more detail, see our feature on energy-efficient windows.
Invest in Solar Panel Systems For Your Home Renovation
For producing hot water or generating electricity, solar panel systems can be used and work well with financial incentives such as FITs.
Solar photovoltaic (PV) systems transform sunlight into electricity. They don't need direct sunlight to run, so you can produce on a cloudy day, but you're going to have to mount them to a roof or wall facing 90 degrees south. Costs range from £8,000 to £14,000.
Water-based systems draw energy from the sun to warm domestic water from evacuated tubes or flat plate collectors mounted to your roof.
If required, you can use a backup boiler to raise the temperature. Most systems for boilers and hot water cylinders are compatible. From £ 3,000, prices start.
You would not need planning permission for most projects, depending on the scale, unless you live in Wales or Northern Ireland.
Install An Eco Friendly Renewable Heating System
Nothing is more sustainable than taking a natural approach to your home heating.
We have already looked at solar thermal, but there are other solutions worth considering, such as heat pumps (acting in reverse like refrigerators) and wood-fuelled systems such as biomass boilers.
Ground-Source Heat Pumps
Ground-source heat pumps use buried pipes for the heating and hot water circuits of your home to draw heat from the soil. Usually, you won't need permission for planning, but you'll need to be prepared for the disruption of digging up your garden.
There is a similar concept that air-source systems use, but they remove heat from the air. These can be mounted on an exterior wall or sometimes in roof spaces, making them suitable for retrofits. Air source heat pumps cost around £2,000.
Wood Fuelled Heating System
Wood-fuelled heating systems burn pellets or logs. They can be used to power both the central heating, hot water, and to simply heat one room. Your central heating and hot water (when using this type of heating system) will be fed by a biomass boiler costs start from around £9,000, including installation.
Your heating system should provide for all of your heating needs, but does require plenty of space; a pantry, laundry room, basement, storage cupboard or loft space should be adequate for a boiler and heating system.
One room is heated by a standalone stove (about £ 3,000) and can be fitted with a rear boiler to provide water heating.
Reclaim & Reuse Building Materials
It's great for the environment to steer building and demolition materials out of the waste stream by reusing them.
Directly from the site of a demolition or remodelling scheme, the best place to source recycled materials is Buildings are also very carefully demolished so that materials can be sold on which costs around £3k.
Reclamation yards, salvage yards, scrap yards and demolition companies are great places to start when looking to use reclaimed building materials on your home for ecological purposes.
Decorate With Eco-Friendly Finishes
Without question, you will use a lot of paint to decorate your house. Luckily, plenty of green goods are available.
Many eco-paints, with pigments coming from minerals or plant dyes, are water-soluble and use plant oils and resins to form the solution.
There are also environmentally-friendly wood varnishes and waxes available, as are green cleaning and wall preparation options. Natural coverings made from materials like hessian, cotton and wool are sustainable wallpapers.
Install An Underfloor Heating System
Underfloor heating is a great alternative to fitting radiators and wood-burning stoves in every room in your home, and if you are pulling up floors as part of the renovation process, it should be a simple process to get them down and working.
They worked by circulating heated water through a network of cross-linked pipes built under your decorative flooring. It works at a temperature of only a few degrees warmer than the room air temperature.
The low operating temperature means it is easily linked, such as solar thermal or heat pumps, to alternative heating sources with similar low-temperature outputs.
Choose Natural Building Materials On Floors & Walls
Specifying natural products helps to keep your home free of chemicals. Internally, the walls and floors are your primary priority. In order for moisture to escape outside, walls must be airtight but breathable.
Don't hide it behind synthetic walls if you've been insulated with a natural product. A natural, breathable and flexible alternative is both lime and clay plaster.
There are many flooring products that are natural, with the most popular being wood. Ensure that it comes from a sustainable source (the FSC logo is a good indicator).
Improve Your Thermostat & Heating Controls
For space heating, over 60 percent of the energy consumed in the average household is used. This can be decreased by up to 35 per cent by using smart HVAC (heating ventilation air conditioning) controls.
Regulation of temperature is the key; a decrease in temperature of one degree equates to an overall energy saving of ten percent.
HVAC controls can be used to work at various temperatures in individual zones or spaces, so unused parts of the house can be heated at a lower temperature. It is relatively easy to install wireless systems, and costs start at around £250.
Consider using cork, rubber or Marmoleum – which can all be 100 percent natural if the wood look isn't your jam, but always check the supply chain before adding it into your plans.
Recycle Your Water
Every year, thousands of litres of rain water falls on your roof, so why not collect it? The rain water that's collected can be used to flush toilets, fill washing machines, and gardens with water.
Consider a system for rainwater harvesting that collects rainfall through a drainpipe, filters leaves and debris out and then stores in a tank the usable water.
Think of changing your toilets and showers as well. Less than four litres per flush is used in a low-flush toilet and less than 10 litres per minute in a low-flow showerhead.
Get Help With Going Green
To get help with buying and installing new insulation, heat pumps and more in the UK you can use Green Homes Grant vouchers.
The Green Homes Grant is a government system in the UK where homeowners can apply for vouchers of up to £5k (or £10k for low-income homes) to make essential, Green home improvements that make their home more energy-efficient.
These include heat pump installation, insulation and double and triple glazing, but it is important to note that you can not choose which enhancements you want (more below).
What is The Green Homes Grant?
The Green Homes Grant was launched in September 2020 and will run until 31 March 2022 (having been extended in November 2020). The government anticipates that the grant will cover around 650,000 homes in England.
Both homeowners and landlords are eligible, although domestic and non-domestic properties (such as shops and offices) are not when they are newly constructed.
Which Improvements are Eligible on the Green Homes Grant?
In order to install one of the following main measures, the Green Homes Grant gives homeowners and landlords vouchers:
Insulation
Low carbon heating
In addition, for further secondary energy-saving measures, households may use what remains of the value of the vouchers (providing a primary measure has been undertaken).
How Does the Green Homes Grant Work?
The qualified enhancements are split into two groups, as mentioned above: primary and secondary.
At Least One of The Following Must Be Installed To Be Eligible
At least one measure from the primary group must be installed by homeowners to apply for the vouchers.
Air source heat pump
Ground source heat pump
Hybrid heat pump
Solar thermal (flat plate or evacuated tube collector)
Biomass boiler
Solid wall (internal or external) insulation
Cavity wall insulation
Under-floor (solid floor, suspended floor) insulation
Loft insulation
Flat roof insulation
Pitched roof insulation
Room in roof insulation
You can only apply for a secondary installation provided that at least one installation from the primary category has been applied for.
Secondary Installations Include:
Energy-efficient replacement doors (if current doors were installed pre 2002)
Heating controls
Draught proofing
Secondary glazing (for single glazing)
Double/triple glazing (to replace single glazed windows)
Hot water tank thermostat
Hot water tank insulation
Secondary Installation Vouchers
Secondary measure vouchers shall be capped at the same level as provided for in relation to the primary installations.
What are Green Homes Grant Vouchers Worth?
Standard Vouchers Are Worth Up To £5,000
Most homeowners may apply for vouchers of up to £ 5,000 to make changes to the primary measure. Two-thirds of the expense is covered by the coupons, so you will need to pay the other third.
Low-Income Vouchers Are Worth Up To £10,000
Low-income households are eligible for upgrades of up to £10,000, and they would not have to add anything to the cost. If you are eligible for the voucher that is for up to £10k you'll find out at the time of your application.
How Can You Apply For The Green Homes Grant?
There are three main steps to take in order to qualify for the Green Homes Grant for home improvements:
Step One: Find out if you're eligible.
Go to the Simple Energy Advice (SEA) service, enter your postcode and find out whether you are eligible for funding, and verify that your home can be applied to energy-saving or low carbon initiatives.
Step Two: Find quotes.
To conduct the job, find TrustMark and/or Microgeneration Certification Scheme (MCS) registered tradespeople. To ensure that you get the best value for money, it is recommended to obtain at least three quotes. Accredited trade in your region will be highlighted on the SEA website.
Step Three: Apply
To receive your Voucher, make an online application using the government website, outlining the energy-saving steps you intend to carry out.
In order to complete phase three, you will need:
Name and date of birth of the owner or owners of the property
The name and date of birth of the person who collects benefits residing in the property
A quote by a TrustMark-registered tradesperson for the job
The license number for TrustMark of your chosen trading manager
What's Not Covered By The Green Homes Grant?
The scheme is not covered by new gas boilers. And although solar thermal panels are included in the grant, there is no coverage for solar photovoltaic panels.
The Green Homes Grant doesn't cover the following programs, either:
Any renovation that was completed prior to the issuance of a voucher
Any renovation that does not increase the energy efficiency of a home
Construction of an extension to your house
Insulating extensions or conservatories which do not have built fixed heating
You can find out more about the green homes grant by clicking here. We hope you found this article useful, if we have missed anything, please leave us a comment to let us know or if you have any questions that we haven't covered let us know and we might even dedicate a blog post to answering your question.